Happy 1st Birthday to Parker
Has it been a year since the "He's here" announcement?
Last year on 8-8-08 at 8:08AM, Parker Foster Aiken was born. Parents cannot be truly prepared for the life altering experience that having a child brings -- from the intense love to the worry, and not to mention the sleep deprivation. The first year is a time of adjustment as well as a time of joy. Today is a milestone -- the first birthday of many to come. So Happy Birthday sweet baby boy. Enjoy your cake!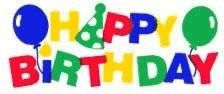 Tags: Clay Aiken son Parker birthday