Take Time to Tell Me: Happy Four Year Anniversary
Take time to tell me you really care
And we'll share tomorrow together
Ooh baby, I'll always love you forever
~~Clay Aiken, Lyrics to 'Always and Forever'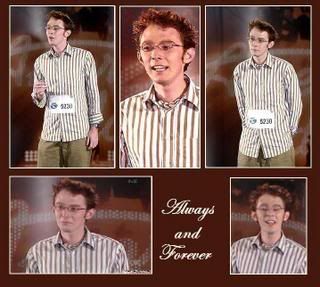 ~Blend by Fountaindawg~
Hard to believe that on January 28th, we are celebrating the four-year anniversary of the first time Clay graced our TV screens. The exchange went like this:
Simon: Why are you here?
Clay: I'm the American Idol.
Simon: Really? Did you see the first show?
Clay: I did.
Simon: And what were your thoughts?
Clay: Um...you had some good talent, but as far as the top 10, I could have been up there.
Simon:Really?
Clay: Yeah.
Simon: Okay, what are you going to sing?
Clay: Singing "Always and Forever".
Sings--knocking it out the park and thus the expression "He had me at Take" is born.
Simon:Okay, very good. You don't look like a pop star, but you've got a great voice.
Randy: Yeah, it's weird, it's wild.
Simon: So now what? Randy yes or no?
Randy: I say yes. I think you can work on your style. You've got a really good voice though. It's just really wild to hear that voice coming from this....
Clay: Little white boy, right.
Simon: Clayton-we'll see you in Hollywood. Congratulations!
Randy: Welcome to Hollywood.
Clay: Thank you very much.
I'm not sure he had me at take in the true sense of the phrase, but he definitely had me interested. I mean I didn't cry or anything when he didn't make it in the Top 32 Round, though I was really glad when he made it through as a Wildcard. Once he sang "Don't Let the Sun Go Down on Me" there was no doubt that he would make it through to the Top 12. So January 28, 2003 was the start of the journey. A journey that is no where near its completion. It has been a wild ride from that incomprehensible day we call "The Anomaly" - to the delightful surprise of the shirt tug during "Invisible" at the AI Tour - to the awesome discovery of concert clack - to the giddiness when first week sales numbers of Measure of a Man were revealed. Those were the salad days. It was so much fun. Of course with the highest of highs there are the inevitable letdowns and disappointments. We had those also from the unbelievable tabloid trash - to Rippagate - to the mandated cover CD - to the disappointing promotion of that CD. I won't call the CD a disappointment since I love it, but an artist of Clay's previous sales and stature should have been able to put on a CD of originals. Instead of fun, we (the fandom) were left with cries of conspiracy theories and whatnot. It sort of sucked the joy out of everything. The ups and downs of the the last 4 years, did help me set more realistic expectations. I don't take things for granted anymore. I still think Clay will have a fulfilling and wonderful career as a musician and entertainer, but the really huge successes won't come as quickly as I once thought. I think in a way Clay is in the "paying his dues" cycle that seems so important to all the talking heads. One thing is for sure, we've all grown in the last four years. Clay just happens to wear his better. The cute boy grew into an amazing man.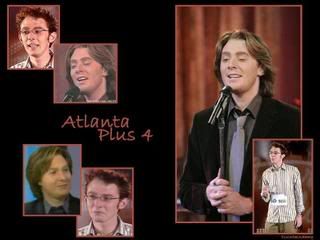 ~Then and Now~
~Blend by Fountaindawg~
Then: Atlanta Audition
Now: Montage of pictures of the 2006 Christmas Tour
~Song: Seasons of Love, Montage by tbio2~
Tags:
Clay Aiken
,
Atlanta
,
Audition
,
Anniversary
,
fandom