Clay and UNICEF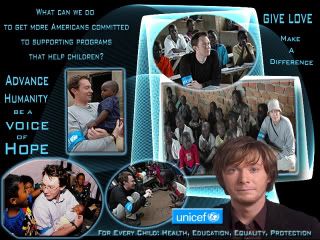 Yahoo UNICEF Profile
About me: Hi, my name is Clay Aiken. I believe that everyone deserves the best start in life and that education is essential to a child's development. Since becoming a UNICEF Ambassador in 2004, I have testified before Congress urging the government to allocate more funds for UNICEF so that its programs can reach all the children in need worldwide. I also traveled to Indonesia after the tsunami and Uganda to see the devastating conditions affecting millions of the world's children first-hand—disease, malnutrition, and war, chief among them. You just cannot believe how some of these kids are forced to live. It's truly heartbreaking, yet many people don't even know these conditions exist. It is my hope that as a UNICEF Ambassador I can encourage people to join UNICEF's mission in support of child survival programs worldwide and to make education a reality for these children.
Find out more at http://www.unicefusa.org/clayaik...


**Clickable**





~Clay Aiken in Jakarta, Indonesia~



~Clay Aiken in Uganda with UNICEF~


~Clay Aiken in Indonesia~


~Clay Aiken in Indonesia~

Clay is also taking part in the Yahoo! Answers UNICEF Campaign


On the charitable side, Yahoo teamed with Unicef for a ten-day celebrity-studded awareness building campaign. Through Yahoo Answers, celebrities from film, TV, music and sports will ask questions of Yahoo's users to build awareness of children's issues throughout the world.

Actors Lucy Liu, Lawrence Fishburne, Alyssa Milano, Danny Glover, and Tea Leoni, musicians Clay Aiken and India Arie, NBA star Elton Brand, and celebrity chef Marcus Samuelsson have been listed as celebrity participants for the program, which runs from today through February 9th.

The opening question, "What can we do to get more Americans committed to supporting programs that help children?", comes from singer and Unicef Ambassador Clay Aiken. Nearly 2,000 answers have been posted in response already; they range from thoughtful to useless, with answers in the latter category being voted down by users in favor of exposing the better ones in the thread.

Quite a few responses made early on touched on a similar idea: increase awareness of Unicef and its mission. There are a number of worthy causes people can support. If they only know Unicef from the Trick Or Treat coin collecting done each Halloween, that means there is room for people to learn more.

The Yahoo Answers campaign should be a good start toward educating more people, since Yahoo draws so much online traffic, and its Answers service has become a popular stop for users ever since its debut in December 2005.



~Clay Aiken's question~




Related Tags: Clay Aiken, UNICEF


Labels: Humanitarian, UNICEF